Ends Sunday, May 31st, 2020 at 6:00 PM
Total Donation Goal $10,997 $3,505.00 Funded
This campaign still needs $7,492.88 within 5 months!
About this Campaign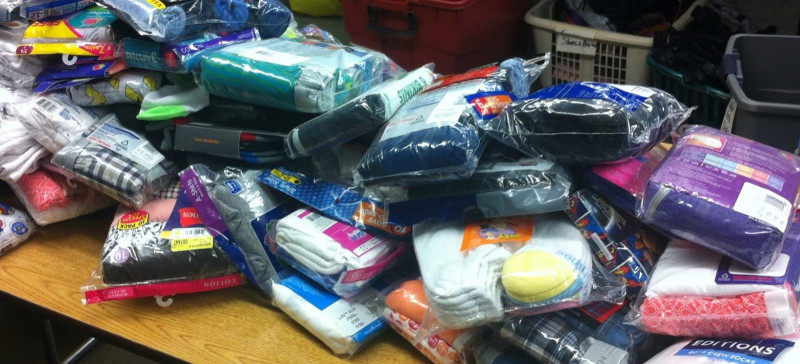 The Park Hill Education Foundation and the District Council PTA Clothing Center are partnering to provide new socks and underwear to district students in need at no charge. We need your help!

Each year the Clothing Center spends more than $10,500 on socks and underwear for our student community. By contributing money the staff volunteers can purchase what is specifically needed based on the student individual needs. Your donation will directly benefit our students. Please consider helping us by donating today.

MORE INFO

The students served by the Clothing Center face the same sorts of risks and barriers encountered by any large and diverse population, including poverty, peer pressure, disability and all manner of family and personal difficulty. The Clothing Center is especially important to those in economic need, including the 29.5% of students who qualify for the federal free and reduced-price lunch program. Being provided with clean, contemporary clothes serves basic humanitarian needs of health and personal dignity, and eliminates a barrier to learning that comes with the low self-esteem that children in need often feel.

When the Clothing Center opened in 1994 it served approximately 70 students that first year. In May 2008 it moved into a house with separate areas for students from kindergarten through high school. Over the past few years, the Center has served approximately 1,000 student users each year. Already 715 students have been served this year and well over 93% request and receive new socks and underwear.

Thanks to the school district, which owns and maintains the house, the Clothing Center's overhead expenses are negligible. The Center does not pay rent or utilities, has no employees, and communicates its services at little or no cost by providing information to students and parents directly through the schools. Virtually all of the funds received by the Center go directly to serving students. And the vast majority of those funds (98.3% in 2017-18) go toward purchasing new socks and underwear.


Donation History
Paul Gault
$25
Plaza Middle School
$100
Park Hill District Office Staff
$1,200
Anonymous
$20
Carmen Scott
$60
Debra Hopkins
$50
Ann White
$20
Anonymous
$235
In Honor of
North Kansas City Hospital, First Student, Burleson Orthodontics
$1,000
Anonymous
$100
Park Hill District Office Staff
$1,200
In Honor of
North Kansas City Hospital, First Student, Burleson Orthodontics
$1,000
Anonymous
$235
Plaza Middle School
$100
Justin and Angie Barton
$100
Janice Bolin
$100
Anonymous
$100
Anonymous
$100
Anonymous
$100
Carmen Scott
$60