Ends Sunday, October 31st, 2021 at 5:00 PM
Total Donation Goal $14,029 $845.00 Funded
This campaign still needs $13,184.19 within 1 week!
About this Campaign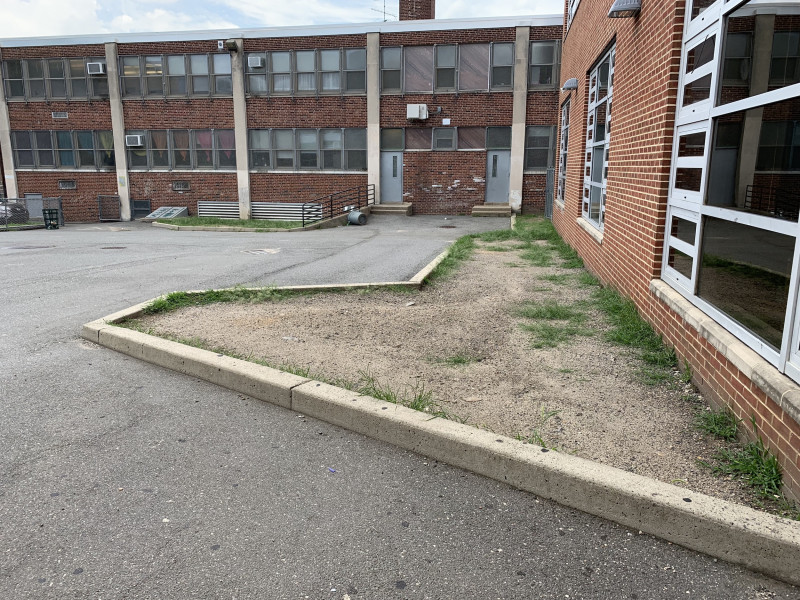 Right now our recess yard is a small, paved lot with some mud pits. The mud pits were intended to be flower beds, but the designers didn't anticipate the poor drainage, high foot traffic, and inadequate sunlight. The picture says it all.
We want to transform this space and Revamp Recess. A playground would provide our youngest students with some opportunities for physical activity and engagement, and a basketball net would give our older students the competitive outlet they crave.
A vast majority of our behavior incidents occur during recess time. Why? Because aside from some balls and jump ropes, our students don't have anything productive to do. Helping us Revamp Recess will have lasting consequences beyond the recess yard: students will be safer, happier, and more willing to engage in academic work once they're back in school.
We have $12,500 already pledged to support this project, BUT: we need to raise $12,500 to unlock that grant. It's a matching grant, so your donation will get us closer to unlocking that pledge and raising the money needed to Revamp Recess.
Donation History
| | |
| --- | --- |
| Elizabeth Mallis | $100 |
| Eric Ruble | $25 |
| Mark Gillespie | $100 |
| Sarah & Bren Regan | $25 |
| Ellen Ruble | $250 |
| Stan Veuger | $25 |
| Thomas Anstey | $50 |
| Lisa O'Neill | $50 |
| Anonymous | $10 |
| Sarah Longwell | $25 |
| | |
| --- | --- |
| Ellen Ruble | $250 |
| Mark Gillespie | $100 |
| Elizabeth Mallis | $100 |
| Timothy Miller | $50 |
| Anonymous | $50 |
| Anonymous | $50 |
| Lisa O'Neill | $50 |
| Thomas Anstey | $50 |
| Anonymous | $25 |
| Sarah Longwell | $25 |