Ends Monday, May 31st, 2021 at 5:00 PM
Total Donation Goal $56,116 $5,800.00 Funded
This campaign still needs $50,316.73 within 2 weeks!
About this Campaign
Thomas Mifflin School lies in the heart of East Falls. Built in 1935, this historic school has served the neighborhood children for over 80 years and currently educates approximately 320 children. Our dedicated faculty and staff work to engage with students and families, often sacrificing their time and money beyond the traditional school day to provide for their students, some of who need more resource and support to succeed.
One giant resource that we haven't been able to provide our students is a playground. Currently our students play on hot asphalt without shade or structure. Our students deserve a playground.

A playground will afford our students the opportunity to expel suppressed anxious energy; to reflect upon instructional experiences; to acquire, develop, and perfect social emotional skills; and to relax.


Our local neighborhood school group, Friends of Mifflin, has already pledged $10,000 towards this project. In addition, our already dedicated teachers and students plan to raise $5000 through a giant school and neighborhood wide penny drive between now and the end of the school year. Including in-kind support, this gets 25% of the way there already. With your help we'll be able to provide this much needed resource, not only for our students but the entire neighborhood of East Falls.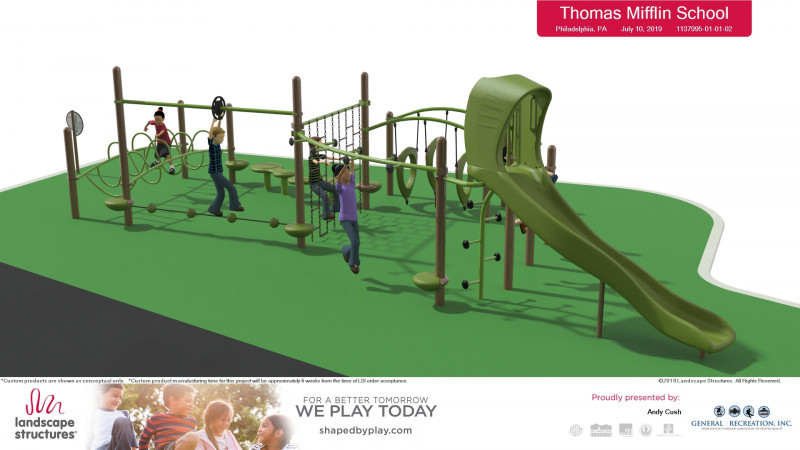 Donation History
| | |
| --- | --- |
| Matt Powell | $40 |
| Lauren Cawley | $25 |
| Anonymous | $20 |
| Tennyson Tippy | $100 |
| Anonymous | $250 |
| Steve Wise | $25 |
| Judy Wise | $25 |
| Carole & John McConnell | $100 |
| Todd Baylson | $40 |
| Rebecca Brown | $50 |
Anonymous
$1,000
Sarah Weisiger
$500
Anonymous
$500
Anonymous
$500
William Sharrar
$250
Daphne Hanford
$250
Anonymous
$250
Anonymous
$250
Anonymous
$250
In Honor of
Noah DePasqua
$100