Ends Tuesday, April 7th, 2020 at 5:00 PM
Total Donation Goal $20,000 $1,400.00 Funded
This campaign still needs $18,600.00 within 1 week!
About this Campaign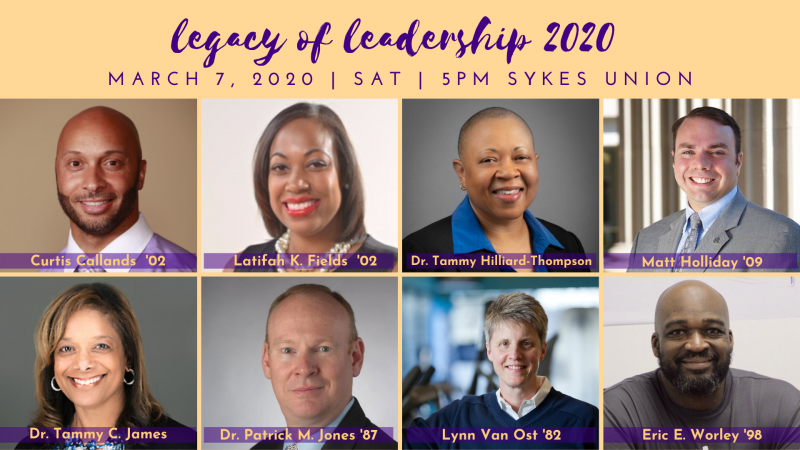 The Legacy of Leadership at West Chester University is an annual fundraising dinner for the Student Affairs Leadership Development Fund. The event offers the opportunity to recognize alumni who have demonstrated service to our institution through student leadership and who continue to utilize those leadership skills in their lives today. Also recognized during the event are faculty and/or staff who demonstrate a commitment to student leadership through their volunteer advisement of student organizations and/or who have provided exceptional service and leadership to students.

To learn more, become a sponsor or purchase tickets, please click here.
Please see below for the Legacy of Leadership Class of 2020 honorees.
Update -
Jan 17th, 2020

at

7:43PM




Curtis Callands, class of 2002, earned his bachelor's degree in special education. While attending WCU, he played four years with the Golden Rams football team as strong safety where they went on to be the 1999 PSAC Football Conference Champions. He also joined the Omega Psi Phi Fraternity, Inc as the chapter's president while at WCU. With the vision of uplifting his community, Curtis conducted numerous mentor groups with his fraternity for aspiring students of color. He believed in leading by example and cultivating the next generation of leaders.

Curtis is an Educational Consultant and Designer of Trauma-Sensitive Schools with many years of experience. After graduating from WCU in 2002, Curtis began his career as a special education teacher at the North Penn School District's Alternative School. While continuing his education, Curtis was inspired to become an educational leader as he earned his master's degrees in Educational Leadership and Special Education Supervision at Arcadia University.

For seven years as a special education teacher, Curtis began his administrative leadership career at the Devereux Institution as an Educational Administrator. He joined the Chester Community Charter School (CCCS) in Chester, Pennsylvania as the Middle School Assistant Principal. While working at CCCS, Curtis has advanced in the field as an Elementary Principal, Middle School Principal, and Assistant Chief Academic Officer. During his tenure as an Assistant Chief Academic Officer, Curtis studied the science and implementations of designing early literacy programs at the Camden and Atlantic City Community Charter Schools in New Jersey.
Currently, Curtis is matriculating in the Mid-Career Doctoral Program in Education Leadership at the University of Pennsylvania while facilitating his research on trauma-informed care professional development series for creating trauma-sensitive schools. In May 2020, Curtis will be graduating with his doctorate degree and soon to be published trauma-informed care training module manual. Curtis' experience in special education and early childhood literacy has motivated his research interests in studying the impact of adolescents' mental health in education by creating trauma-informed schools.
While currently serving as the Principal and Director of Student Services at the LifeWorks Behavioral Health School in Upper Darby, PA, Curtis was able to incorporate his staff into his study. LifeWorks is a licensed specialty therapeutic day school for students in elementary through high school located in Southeastern, Pennsylvania. His daily operations resonate in cultivating trauma-informed learning environments, modeling best prelogical practices, facilitating special education compliance, designing individualized curriculum, and nurturing the social-emotional development of his students. Curtis models the famous quote by Dr. Cornel West, "You can't lead the people if you don't love the people. You can't save the people if you don't serve the people."
With a loving wife and three beautiful little girls, he understands that being an exceptional leader for others requires reciprocity at home.

Update -
Jan 17th, 2020

at

7:51PM




Latifah K. Fields is a 2002 graduate of West Chester University. As a student, Latifah was involved with Black Student Union serving as Public Relations chair and Vice President as well as serving as President of Alpha Phi Omega Service Fraternity. Latifah developed lifelong leadership skills as a member of SAIL - Students Actively Involved in Leadership, worked in McCarthy Hall as a Resident Assistant, and was a Student Director for the Wellness Center.


With a passion for people and travel, Latifah is a Flight Attendant with American Airlines, where in addition to flying the friendly skies, lends talents to the Flight Attendant Involvement Teams special assignments over the last 7 years. Previously Latifah worked for Mercy Health System of Southeastern Pennsylvania (having developed and maintained various internal and external communications, including the web) and Greater Media Philadelphia's Smooth Jazz 97.5 as a Promotions Assistant.

Latifah is the President of the Pennsylvania Chapter of the National Coalition of 100 Black Women, Inc. (NC100BW-PA) and has been an active member for 14 years, serving in various leadership roles. Recently elected to the National Board of Directors for the National Coalition of 100 Black Women, Inc., Latifah looks to continue to advocate on behalf of black women and girls.

With a passion for serving and giving back, Latifah continues to lend time, talents and treasures to various entities: West Chester University Black Alumni Chapter, Penn Wood High School Alumni Association, Penn Wood Foundation, Mt. Zion Baptist Church and Spiritual Motivators.


Update -
Jan 17th, 2020

at

7:53PM




Dr. Tammy Hilliard-Thompson, a first-generation college student and daughter of two sharecroppers, George T. Hilliard and Dorothy Hilliard, is the first in her family of over 500 relatives to obtain her doctoral degree and hopes this will open the door for other family members and friends to take the journey. She is a graduate of Montclair State University with a BS in Recreation and Leisure Studies, received a Master of Arts in Teaching Education from Sacred Heart University, and earned her doctorate from Wilmington University in Organization Leadership, Learning and Innovation. Tammy has been an integral member of our Student Affairs staff for 12 years serving as a Resident Director, Assistant and Interim Director of the Dowdy Multicultural Center, and Assistant Director of Student Conduct. Most recently, Tammy is an Adjunct Faculty in the Higher Education Policy and Student Affairs Graduate Program here at WCU. She has developed and facilitated leadership and team building workshops for students, faculty and staff across our campus as well as the Philadelphia Futures Workshops.


With a passion for our Golden Rams and giving back to the university, Tammy has an extensive array of advisor roles over the years. She has been the advisor for Black Student Union, Latino American Student Organization, Sistahs United, Black Men United, Schmidt and McCarthy Hall's Residence Hall Council, and Leading Up Women's Mentors Project. Tammy saw the need and established the Multicultural Organizational Advisory Board bringing various student organizations together to collaborate and support each other. Tammy has not only given her time throughout the academic year but traveled long distances to be the Alternative Spring Break Habitat for Humanity Advisor in North Carolina and traveling companion for WCU's Gospel Choir out of state trips.

Some of Dr. Hilliard-Thompson's major accomplishments throughout her career include receiving the Council of Trustees Staff Recognition Award, being awarded the West Chester University's University Forum grant for the Lawrence A. Dowdy Diversity, Inclusion and Civility Symposium, The Office of Civil Rights voted "Real Conversations" and "Moving Barriers, Understanding Boundaries" as the best practices in the state of Pennsylvania, and she was inducted into Chi Sigma Alpha Student Affairs Honors Society.

Tammy has a graceful and effortless way of providing support when needed, challenging students to think from a different perspective, putting everyone at ease around her, all while finding humor and keeping spirits light. Tammy's guidance has helped shape countless students and we are grateful she continues to find new ways to support our students' success. She enjoys assisting students through leadership engagement workshops to learn their full potential as a leader. Even though most of the attention focuses on the high achievers in the academy, her interest and passion lie with those students who require extra support and intrusive advising. Tammy loves engaging in conduct work and says it is one of the most impactful ways to engage and serve students but also to learn current affairs and hot topics.

Update -
Jan 17th, 2020

at

7:54PM




Matt Holliday graduated from West Chester University in 2009 with a Bachelor of Arts in Political Science. During his time at WCU, Matt was very involved in Student Government Association serving as a Senator to West Chester Borough, Parliamentarian, and President. He held many student leadership roles as well: Friar Society Alumni Honorary Liaison, a Resident Assistant in Killinger Hall, Residence Hall Association Vice President, Off Campus and Commuter Association Parliamentarian, Orientation Leader, and a Student Conduct Hearing Officer. As a student, Matt was a member of the SSI Board of Directors as well as served as an Aide to the Executive Director of SSI.
Matt has received many awards for his leadership and overall humanity. At WCU he was named Student Government Association Most Dedicated Senator of the Year and The Friars' Society Herb Lee Award (Outstanding Friar of the Semester). Since graduating he has been named Rotary Club of West Chester Paul Harris Fellow, Rotarian of the Year, Rotarian of the Month, The Central Pennsylvania Chapter of the American Society for Public Administration Outstanding Young Professional in Public Administration Award, Exton Region Chamber of Commerce The Senator Robert J. Thompson Public Service Award, and Greater West Chester Chamber of Commerce Citizen of the Year.

Matt is currently the Executive Director of the Chester County Bar Association after serving as the Chester County Prothonotary for four years. Previously, Matt was the Chief of Staff for State Representative Dan Truitt. He has dedicated his career and personal time to public service by being a part of 14 nonprofit board of directors and stepped into leadership roles throughout the process. From the WCU Alumni Association, Friars Alumni Association, Rotary Club of West Chester, Friends Association for the Care and Protection of Children, West Chester Downtown Foundation, and Domestic Violence Center of Chester County, he has worked to prove himself as a committed citizen to Chester County.

Update -
Jan 17th, 2020

at

7:54PM




Dr. Tammy C. James is a Professor in the Department of Health at West Chester University, the Coordinator of Academic Support Services and most recently the Coordinator of COMPASS, an academic support and retention program to address the achievement gap for African American Male Students at West Chester University. She has been on the faculty at West Chester University for the past 25years. As a first-generation college graduate, Dr. James believes strongly in the power of teaching and learning. She has a passion for working with college age students and is driven by a desire to help students become college graduates.
Dr. James has been a role model and advisor for many students on campus. She has dedicated her time to give guidance to Black Student Union, Poetry Club, Delta Sigma Theta Sorority, and Fellowship of Christian Athletes as their faculty advisor. Receiving the West Chester University Civility Award is a major accomplishment and Dr. James was recognized for her commitment to students and their success and to West Chester University's mission and values.

In addition to having a passion for teaching, she also believes in volunteering and serving the community. Some of her past work with community agencies include Big Brothers/Big Sisters, Chester County Maternal and Child Health Consortium, Planned Parenthood, and the American Cancer Society. In her most recent role, she has become involved with NCAA initiatives on leadership and was recently selected to serve on the NACADA NCAA Advisory Board. Her recent selection to join the Kent State Alumni Board of Directors for a 3-year term is one of her biggest accomplishments to date. Today, her professional work focuses on retention and graduation efforts of underrepresented students. Outside of work, she enjoys spending time with her husband Keith and their two children, KJ and Kayla, attending sporting events, reading, yoga and Zumba.

Update -
Jan 17th, 2020

at

7:55PM




Dr. Patrick M. Jones graduated from West Chester University in 1987 with a B.S. in Music Education. He was an active student leader in the music department as the Wind Ensemble Student Conductor, Pit Orchestra Student Conductor, and member of the Marching Band. During the summers, he was a Counselor for the Summer Music Camps. He built a foundation of leadership here at WCU and has utilized these skills throughout his career.
Dr. Patrick M. Jones is chancellor of Penn State Schuylkill, and professor of music. As Chancellor, he serves as the chief executive officer and principal academic leader of the campus and is responsible for the quality of academic programs in teaching, research, and service; strategic planning; budgeting; philanthropy; faculty and staff development; outreach; and alumni relations.

Dr. Jones served in a variety of administrative roles prior to coming to Penn State, including Assistant Vice President for Academic Affairs at Drexel University, Director of Veteran Enrollment Practice and Director of the Setnor School of Music at Syracuse University, and Chair of the Music Education Department at Boston University. Dr. Jones has also held leadership positions in national and international scholarly societies, published research in numerous peer-reviewed journals, presented papers at academic symposia around the globe, and served as a member of editorial boards and an external reviewer for scholarly publications and research grants.

In addition to his academic career, Dr. Jones served for thirty years in both the Army and Air Force, retiring from the Air National Guard at the rank of Colonel. His assignments included being a musician, unit commander, and Chief of Air National Guard Bands/ANG Bands Advisor to the Air Force Director of Public Affairs. In this role he engaged in and led joint force and total force strategy, planning, and policy development, guided units toward readiness, managed budgets, and qualified personnel to become commissioned officers. As Chief of Bands he was responsible for units across the country and a worldwide mission that included diplomatic outreach globally and troop entertainment in deployed locations throughout the Middle East, Central Asia, and the Horn of Africa.

Dr. Jones holds a Bachelor of Science degree, cum laude, in music education from West Chester University; a Diploma of Fine Arts in conducting and wind literature from the University of Calgary; a Master of Arts degree in conducting from George Mason University; and a Doctor of Philosophy degree in music education from Penn State University. He is also a graduate of the Armed Forces School of Music, Air National Guard Academy of Military Science, Squadron Officer School, Air Command and Staff College, and the Air War College. Patrick and his wife Karen Weiss Jones, director of development at Penn State Abington, are both native Pennsylvanians.

Update -
Jan 17th, 2020

at

7:56PM




Lynn Van Ost grew up in the small town of Tenafly NJ. After high school, Lynn attended West Chester University (formally West Chester State College) and graduated in 1982 with a bachelor's degree in nursing. Lynn was a member of Alpha Phi, served as President for Panhellenic Council and was a member of the Abbé Society. Lynn then attended Temple University and was certified in athletic training in 1984 and later went on to graduate from Temple University with a master's degree in Sports Medicine and continued on to receive a second bachelor's degree in physical therapy in 1988 from Temple.
In addition to treating the general orthopedic population as a physical therapist, Lynn has worked with both amateur and professional athletes and has more than 30 years of experience as an athletic trainer working with Olympic level elite athletes at numerous international events, including the 1992 and 1996 summer Olympic games.

Lynn currently works as Director of physical therapy at Elite Physical Therapy Associates in Ormond Beach, Florida and resides with wife, Karen Manfre, in Saint Augustine Florida. During well-deserved free time, Lynn enjoys golfing, sailing and going fishing with friends.

Update -
Jan 17th, 2020

at

7:59PM




Eric E. Worley graduated from West Chester University in 1998 with a BS in Health and Physical Education. While at WCU, Eric was a member of Black Student Union and the Men's Basketball Team as Team Captain for two seasons. Not only was he a leader on the court, but he was an Athletic Visitation Leader showing potential students around during their visits. As a WCU Men's Basketball Hall of Fame Inductee and member of the HOF committee, his legacy spans the Division of Student Affairs.
Eric currently serves as the Co-founder and Executive Director of Triple Threat Foundation. As a sports-based youth development program, Triple Threat Foundation is committed to serving youth in and around the Philadelphia area in three distinct areas; Education, Life and Basketball.

After a 15 plus year career in the education field as a teacher, counselor and school administrator, Eric's professional focus shifted to running the non-profit youth foundation, which he co-founded in 2007. Philly Triple Threat, as it is known throughout the basketball community, has successfully established itself as a nationally recognized program that serves over 500 girls and boys on an annual basis.

Eric also serves as a Co-founder and Program Director for Philadelphia Youth Basketball (PYB), which is a sports-based youth development program dedicated to creating opportunities for young people to develop their potential as students, athletes and positive leaders.

Eric's educational grooming began in the School District of Philadelphia, Central High School 252nd graduating class, then continued at West Chester University (BS in Health & Physical Education) and Gwynedd Mercy College (MS in Educational Administration) respectively.

Mentoring and teaching comes naturally, as Eric began coaching and working as a camp counselor at a very young age. His motivation to mentor young women and men comes from his commitment to being living proof that young people can lead successful and productive lives regardless of the many obstacles that they are faced with if given the opportunity, access and exposure.

Donation History