Ended Tuesday, March 24th, 2020 at 9:08 PM
Total Donation Goal $7,505 $7,505.52 Funded
This campaign has ended and has been fully funded. If you made a donation, thank you.
About this Campaign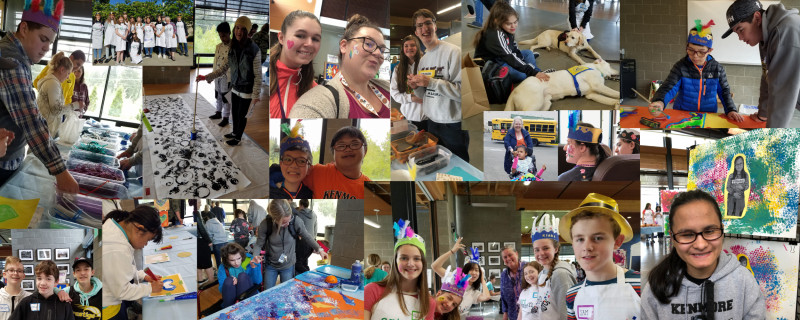 Every Kid Deserves an Art Experience!

ArtSpring (adapted art for all abilities) is an arts festival for our secondary special needs students in the FSA (Function Skills and Academics) and ATP (Adult Transitions Program) programs in Northshore.

The second annual ArtSpring will be held April 23, 2020 at Brightwater Center. This event gives these under-served students access to a non-competitive experience in and out of the classroom designed just for them. For many, it will be their very first field trip.
Check out the video footage from ArtSpring 2019! 
https://youtu.be/GFk6IyHGofg
Art specialists bring all the adapted tools and multi-sensory art projects to the classroom and also to Brightwater on the Festival day. The students are so excited to be featured at ArtSpring and also at their schools following the event. General education peer mentors are an important part of the art experience. They support and create side-by-side which is mutually beneficial. We call it Reverse Inclusion!
The day off-campus also provides them opportunity to demonstrate real-world social interactions while reconnecting with past classmates, teachers and therapists from the district. Their smiles tell just how important this community art experience is to them.
Please Help Us Bring Community Art , Connection and Belonging to Every Student!


Comments from last year's festival were all positive!
• "Teachers and support staff saw students capable of new skills and discovered tools and activities that motivated them to stretch. They left with huge smiles on their faces and each and every one of them was so proud to see their art on display and participate in all the different art projects. " Julia Larsen, FSA teacher, Timbercrest MS
• "It is important for community members to see these students flourish in a space that makes the students feel comfortable, included, and safe." Amber Wyberanec, FSA teacher, Woodinville HS.
Who attends? Secondary FSA (Function Skills and Academics) students, peer mentors, specialists and teachers in the 7 schools which host the FSA program, selected students from Adult Transition Program and Midlevel Skyview students. Last year's festival served 80 Special Education students, 85 general education peer support students, 30 teachers/Specialists and 30 Community Volunteers.
Donation History
Northshore Schools Foundation
$2,170
In Honor of
Steve Hammond
$50
Microsoft Matching
$50
Maria Prendergast
$50
My Village Northwest
$3,750
Inglemoor High School PTSA
$500
Lisa McCool
$100
Marvin Youn
$100
Jennifer Leland
$100
Bothell PTSA
$250
| | |
| --- | --- |
| My Village Northwest | $3,750 |
| Northshore Schools Foundation | $2,170 |
| Inglemoor High School PTSA | $500 |
| Bothell PTSA | $250 |
| Marvin Youn | $100 |
| Anonymous | $100 |
| Lisa McCool | $100 |
| Sandhya Sargunar | $100 |
| Patsy Treece | $100 |
| Jennifer Leland | $100 |