Ended Tuesday, June 1st, 2021 at 6:00 PM
Total Donation Goal $4,000 $1,650.00 Funded
This campaign has ended. If you made a donation, thank you.
About this Campaign
We are excited for our upcoming 12th annual Prescott Community Walkathon!
Its main purpose is to serve as a fundraiser for Prescott School and Prescott Park, in particular investments into the award-winning outdoor classroom and greenspace. For our children, this is an excellent opportunity to turn dreams into reality. You can help by donating a set dollar amount of your choice in exchange for the kids/classes completing the walk.

We are grateful that our community has long provided strong support for Prescott School & Prescott Park. Last year's Walkathon was cancelled due to COVID-19 so Prescott is excited to bring the tradition back! Will you consider becoming a sponsor?
Our annual goal is to raise $10,000 in donations.

Can we do it again?
OF COURSE WE CAN!


The Walkathon has been highly successful! Participants collectively walk more than 1,000 miles each year. We have met our successive fundraising goals and most recently that included a multi-year fundraising campaign for installation of 19 lights throughout Prescott Park to improve safety and extend time of use for the outdoor space. Other past projects included an outdoor Maker Space (2016) that now includes the creative arts (marimbas, instruments, infrastructure improvements in 2017); support the redesign of the large playfield for multipurpose use (2015); construct a fossil dig with a saber-toothed cat (2014); and implement an adjacent prairie landscape (2013). Prescott has earned the prestigious Green Ribbon Award from the U.S. Department of Education, and been recognized by the Arbor Day Foundation and Dimensions Foundation, for its strategic and extensive use of the outdoor classroom. Other Prescott Park amenities funded with corporate and community support include a community garden, gazebo, clatter bridge, arbor-covered entry with the Prescott Park logo cut in brick pavers, and a science discovery area with weather station and giant compass-shaped flagstone floor.

This year, our theme is the Flora and Fauna of Prescott Park! Your donations will support the installation of various flora and fauna habitat features like birdhouses, birdfeeders, bat houses and pollinator areas throughout Prescott Park. This will provide students and teachers an opportunity to talk about urban wildlife and the importance of pollinators through class projects. We will also perform maintenance on the "one of a kind" local artist made saber-toothed fossil as it shows wear and tear after 7 years of exploration. Funds raised in the 2021 Walkathon will facilitate our goal to support Flora and Fauna of Prescott Park! With your help, we hope to raise $10,000 for Prescott Park between all our fundraising platforms.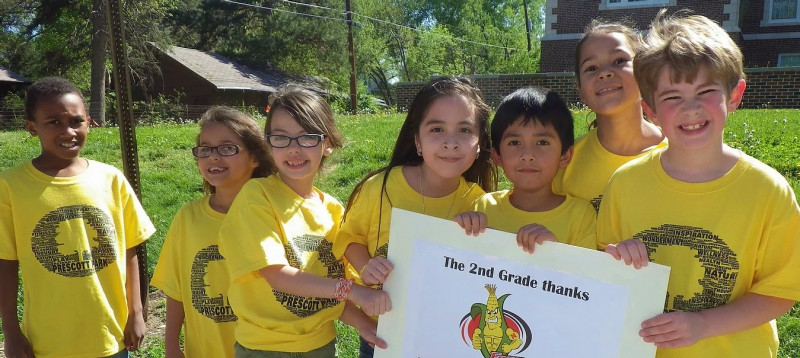 Prescott Walkathon Sponsorship Levels

Our students will be walking during their PE class period May 3-7, 2021!

Please send your tax-deductible cash/check contribution, made out to "Prescott School" with "Walkathon 2021" in the subject line, to: Prescott Elementary School, 1930 S. 20th St., Lincoln NE 68502.

Prefer to donate online? We've got two ways you can help!
Visit: www.foundationforlps.org/give/inspiring-dreams-fund.html
Be sure to mention "Prescott Walk-a-Thon" in the description!

OR Donate right here!

All Sponsors:
We will gladly recognize you with a customized, widely visible sign outside Prescott (examples below)
AND feature your company's logo on our website!

Event Sponsor: $1,000
Your support at this level will help us repair the protective coating of the saber-toothed fossil

Corner/Path Sponsor: $500
Your support at this level will help us purchase new picnic tables

Grade Sponsor: $250
Your support at this level will help us purchase bird feeders, birdhouses and bat houses

Individual/Group Sponsor: any amount!
And if your organization would like to involve volunteers at the event, just contact us.
We are always delighted in bringing together the Prescott Community.

For more info, visit prescottcommunitypark.com
Or contact Justin J. Wilkins (jwilkins@lps.org, 402.436.1161).

Go Panthers!
Update -
Apr 12th, 2021

at

10:21PM




Want to see more & the impact? Check out this amazing video by one of our current Prescott Parents created in 2015!
Donation History
Anonymous
$20
Judy Healy
$25
In Honor of
Amelia and Fiona Ross!
$100
Beth Loop
$50
Matel Rokke
$50
Anonymous
$500
Anonymous
$100
Liz Lemon
$25
Meadowlark Coffee And Espresso
$100
Anonymous
$15
Anonymous
$500
In Honor of
Amelia and Fiona Ross!
$100
Anonymous
$100
Anonymous
$100
Meadowlark Coffee And Espresso
$100
Anonymous
$100
Matel Rokke
$50
Beth Loop
$50
Linda Bunting-Blake
$50
Jake Lozier
$50