Ended Sunday, May 22nd, 2022 at 6:00 PM
Total Donation Goal $50,213 $41,005.00 Funded
This campaign has ended. If you made a donation, thank you.
About this Campaign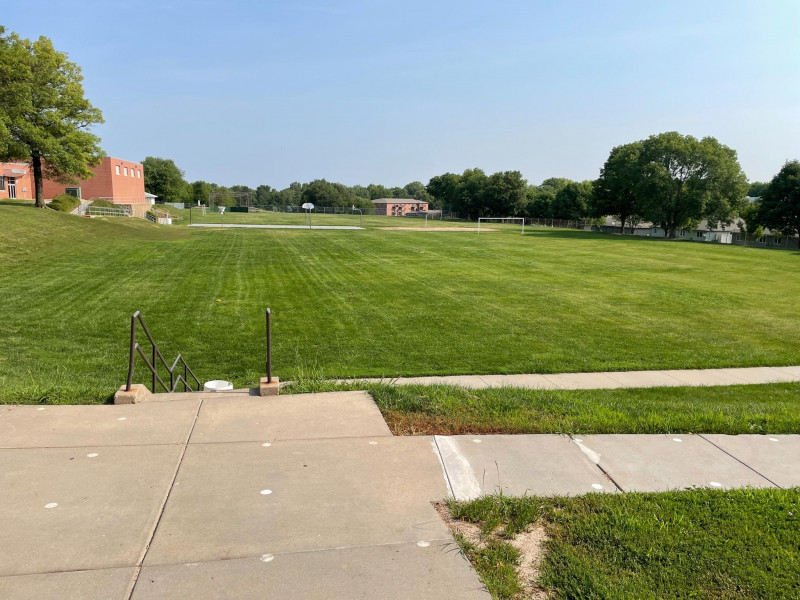 Mickle Middle School is working to have a large walking path added to the activity field on the campus. This path would be utilized by students for physical activity during recess, P.E. classes, and during after-school intramural activities. Additionally, this path would be open to the community allowing for a place for community members to walk after school hours.
Your gifts will make it possible for all students to have access to barrier free movement and exercise. This video shows the proposed path: https://www.wevideo.com/view/2260213799
The construction of the walking path would be completed in two phases. Each phase would cover half the distance of the oval path. A center connecting path will be laid down during phase one to ensure a functioning path is in place at the end of the first phase.

The school plans for phase one completion to take place in the late-spring and summer of 2022 and phase two the following summer. Requesting $25,000 plus cost reimbursement.


Update -
Aug 19th, 2021

at

9:12PM

We added some basic graphics to two images to better help you visualize where the path will go.

Every gift counts, so please consider a gift and do share the link to let others know. It will truly take a village to make this project happen but we can do it together.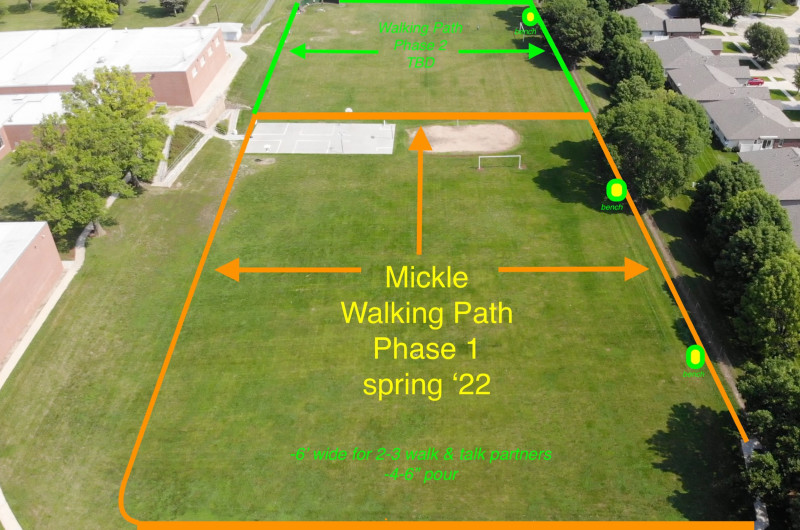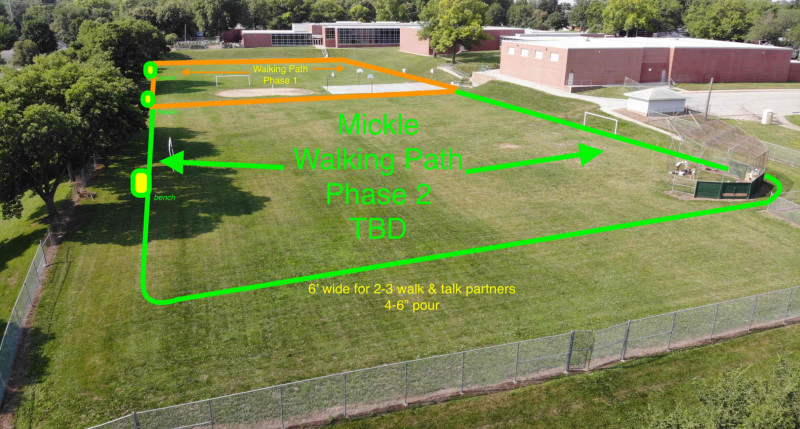 Donation History
Kennedy Krikac
$50
In Memory of
Cory Mohler
$100
Jill Anderson
$50
Jon Davidson
$200
Jane and Jack McVay
$100
Schmieding Foundation
$25,380
Anonymous
$10,000
Anonymous
$25
Shawn Kenaston
$250
Anonymous
$50
Schmieding Foundation
$25,380
Anonymous
$10,000
D F Dillon Foundation
$4,000
Shawn Kenaston
$250
Jennifer Hiebner
$250
Jon Davidson
$200
Jennifer Engel
$100
Jane and Jack McVay
$100
In Memory of
Cory Mohler
$100
Kalika Jantzen
$100