Ended Saturday, September 18th, 2021 at 2:10 PM
Total Donation Goal $1,140 $1,140.26 Funded
This campaign has ended and has been fully funded. If you made a donation, thank you.
About this Campaign
Help the Culler band and orchestra purchase matching polos for performance!
At Culler we are working to build the music program and give students high quality performance experiences at concerts, school and community events, and honor groups. Students at Culler would like to appear professional and uniform by wearing embroidered polos to performances.
As a school with a high number of students qualifying for free or reduced lunch, these shirts will allow all students to look professional without adding a financial burden for families. Shirts will be housed at the school to keep them pristine and able to be used for many years. Shirts with embroidery cost $13.50 each. We are raising funds for 74 shirts for the 7th/8th Orchestra, 8th Grade Band, and Jazz Band.
Uniforms give students a sense of belonging and professionalism. They build confidence and reinforce the team culture that band and orchestra exemplify. Your donation will help students perform confidently as they represent their school and their community. Requesting $1,000 plus cost reimbursement.
Thank you for supporting Culler students!
Update -
Sep 21st, 2021

at

12:27PM

THANK YOU to our donors! It has been so exciting and encouraging to watch donations come in, and we reached our goal in just a few short months!

This incredible team of parents, families, friends, teachers, alumni, and former band/orchestra kids has come together to provide something very special for the Culler music students. We will place our order in the coming weeks and should be ready to debut our new shirts at our December concerts!

Thank you so much!

-Mrs. Ghormley & the Culler Bands & Orchestra
Update -
Oct 21st, 2021

at

4:56PM

The shirts are in! Mrs. Ghormley picked them up this morning and a few 8th graders volunteered to model them. We look forward to debuting them at our December concerts!

THANK YOU to all of our amazing donors for making this dream a reality!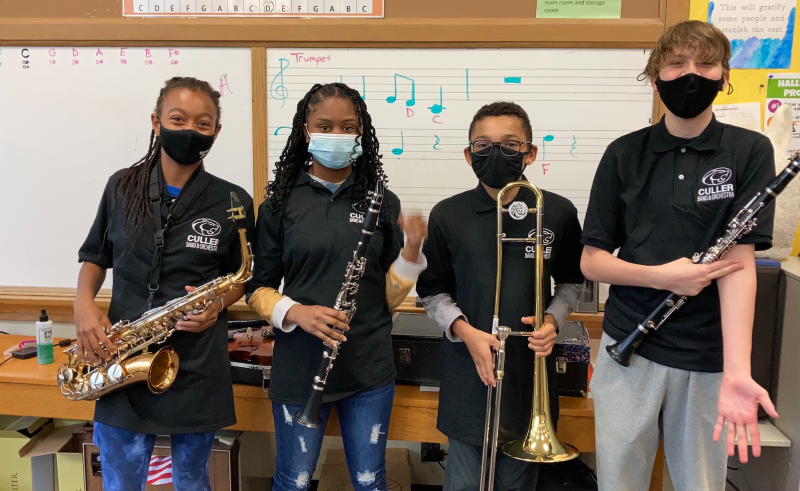 Donation History
Anonymous
$165
Ruth Hurst
$10
Jan Dwyer
$25
Joan Johnson
$100
Elonie Sheen
$25
Kevin & Jessica Kuta
$15
Anonymous
$50
Alicia Buser
$50
Tamar Polivka
$50
In Honor of
'90-'93 Culler Alumni
$50
Anonymous
$165
Anonymous
$100
Kari Wade
$100
Anonymous
$100
Nancy Brosamle
$100
Joan Johnson
$100
In Honor of
'90-'93 Culler Alumni
$50
Tamar Polivka
$50
Alicia Buser
$50
Anonymous
$50