Ended Tuesday, April 24th, 2018 at 10:57 AM
Total Donation Goal $695 $695.56 Funded
This campaign has ended and has been fully funded. If you made a donation, thank you.
About this Campaign
At Irving Middle School we want to provide a music education that allows ALL students to experience success and joy through creating and learning about music.  As students musical interests continue to change, we are constantly looking for new and unique ways to connect with them.  I believe the next step for our school is to invest in ukuleles for each of our 6th, 7th, and 8th grade classes.
The value of learning a musical instrument has been proven over time to help with memory skills, coordination, improved reading and comprehension skills,  and improved listening and social skills.  Through 20 years of teaching I've personally seen many of these improvements in my students.

It's important in our classroom that we find an instrument that is accessible to all students and also fairly easy to learn so they experience success through the learning process. The ukulele is perfect for this. With only four strings, most of the chords are fairly easy to play. The strings are nylon and easy on the students fingers. The size of the ukuleles are also perfect for our middle school students.  
I also love that a wide range of sheet music and resources are available for the ukulele. Song selections can range from classical to the newest pop music. This will allow us to choose from a number of resources with the hope of finding songs that connect with ALL of our students. 
I hope you will consider supporting this exciting project as we continue to create opportunities for ALL students at Irving to enjoy the gift of music!  Requesting $610 plus cost reimbursement.
Update -
Apr 15th, 2018

at

4:00AM

Thank you so much to all of you who have given so far! I'm getting so excited for the opportunity for all Irving students to learn how to play the ukulele. Please feel free to spread the word through social media sites about this project. Hopefully by the beginning of next year we'll have ukuleles purchased and ready to go at the start of the school year. Below is the link you can use to share it with others. - Mike

https://foundationgive.com/campaigns/5129/irvingukuleles1


Update -
May 29th, 2018

at

2:47AM

Good evening! I just wanted to let everyone know that we got both of the Ukulele grants fully funded and were able to purchase 35 ukuleles for $35 a piece! We were so excited to get a great deal and purchase a few more than we had originally planned.

We tuned all of the ukes the last week of school but you'll have to wait until the fall to see them being used by the students. So sorry to make everyone wait, but please know you've made a huge impact on our students already. They are so excited! We'll plan to use the ukes for our 6th and 7th grade classes. I'm hoping to build in some for our 8th grade chorus classes too, but still researching how that might work. I'll keep updating this list in the fall so you can see how everything is playing out. Thank you again for your support of ALL students at Irving. We are going to have a blast!

Mike Robb - Irving Choral Director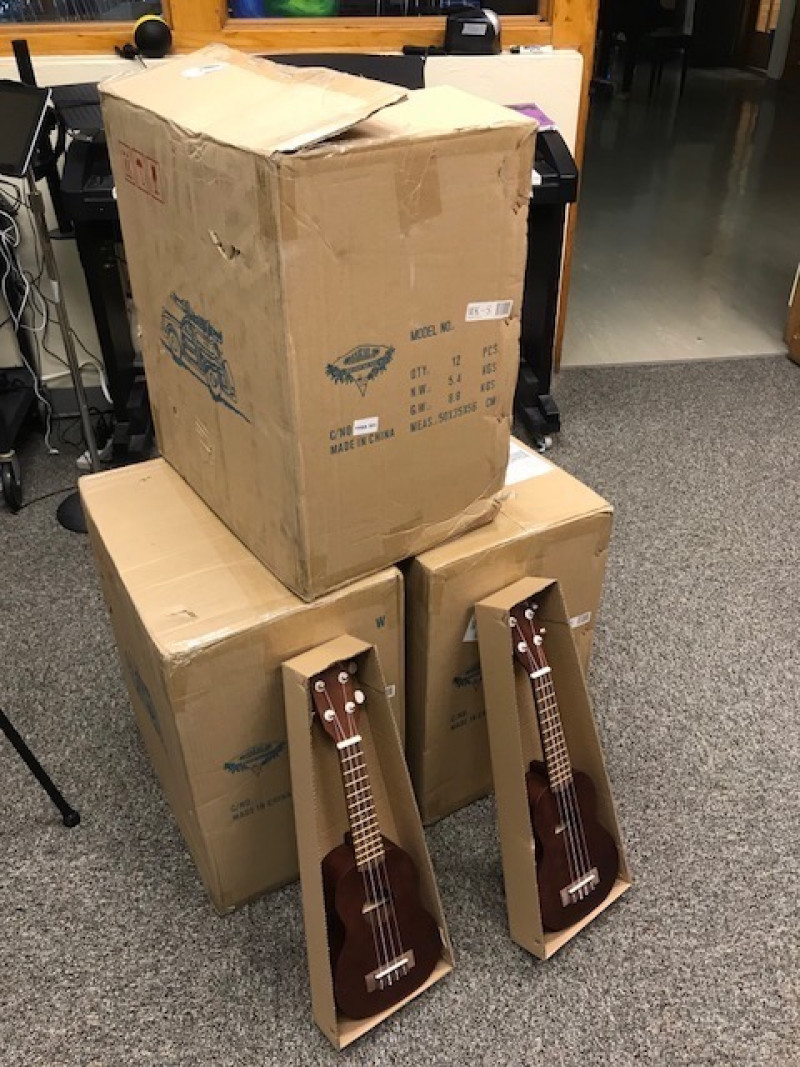 Update -
Aug 31st, 2018

at

4:23PM

Ukuleles are a hit at Irving! Thank you so much for supporting this great project. Here are couple videos of our 7th graders playing them. They are getting better each time we practice and having a blast. Thank you so much!






Donation History
In Memory of
Lucia Ann Hertzler (former Irving Aardvark!)
$93
Jeannie Croner
$38
Kim Salistean
$25
Jennifer Klein
$25
Karen Wills
$50
Paige Roberts
$50
Naomi Beard
$100
Amy LaPointe
$38
Amy Perdew-Smith
$50
kay siebler
$38
Naomi Beard
$100
In Memory of
Lucia Ann Hertzler (former Irving Aardvark!)
$93
Paige Roberts
$50
Karen Wills
$50
Anonymous
$50
Christie Weston
$50
Anonymous
$50
Amy Perdew-Smith
$50
Jeannie Croner
$38
Anonymous
$38